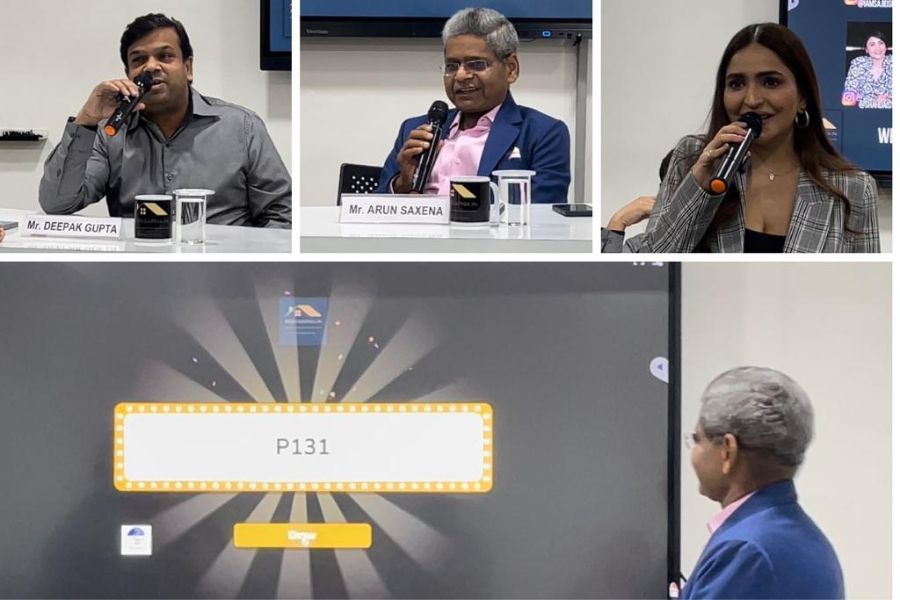 MeraSapna.in, India's first-ever online property prize competition, announced the winner of its unique contest on April 23, 2023. The event was hosted by the famous anchor and upcoming artist Ms. Sonam C Chhabra and witnessed by esteemed guests such as Mr. Arun Saxena, a Corporate Lawyer with 29 years of experience at Saxena & Saxena Law Chambers, and Mr. Deepak Gupta, Chancellor of Jagannath University, Delhi NCR. The live stream of the event on Instagram @merasapna_in garnered over 9,000 viewers from all over the country.
The competition, launched on February 15, 2023, received an overwhelming response from more than 15,000 participants from all over India. The entry fee of just Rs. 501 made it affordable for everyone to participate, and the prize of a luxurious apartment worth 75 lakhs made it a once-in-a-lifetime opportunity.
The winner, Mr. Kunal Tiwari, a young boy who is about to get married from New Delhi, won the grand prize of a 2-bedroom apartment worth 75 lakhs by paying just Rs. 501. Apart from the winner, all other participants received PVR Cinemas movie ticket vouchers worth up to Rs. 501, giving them back the value of the money they had spent on this portal.
The winner, Mr. Kunal Tiwari, was overjoyed when he received the news via a live call from Sonam, the host of the event.
Mr. Tiwari, who belongs to a middle-class family and had recently started a job, expressed his disbelief at winning a home worth 75 lakhs. He shared that he had never thought of buying a home due to financial constraints, and had only participated in the contest hoping to win a PVR movie ticket voucher.
When asked how he had come to know about the contest, Mr. Tiwari mentioned that he had seen an Instagram reel posted by popular content creators Mr. Sajid Shahid and Mrs. Shilpa Khatwani. The reel had introduced him to MeraSapna.in, and upon exploring their Instagram profile, he was convinced to participate after seeing various posts, including one by Ms. Himani Chaudhary, a Financial Risk Consultant and a famous Financial Influencer.
Kunal Tiwari's win has become the talk of the town and an inspiration to many. The young boy's dream of owning a home has come true through this contest, and MeraSapna.in is proud to have been a part of it. The platform remains committed to fulfilling the dreams of many Indians to own their homes. It's the only Gaming Platform in the world where everyone is a winner, and no one loses any money.
Mr. Arun Saxena said, "He is happy to witness this first of its kind contest in India and was extremely thrilled to see a young man's dream come true. He further encouraged the management of MeraSapna.in to host several such events so that several other Indians could benefit from such rewards."
"We are thrilled to announce Mr. Kunal Tiwari as the winner of our Property Prize competition," said the CEO of MeraSapna.in. "His story is a testament to the power of dreams and the opportunities that are available to everyone. We are grateful to all who have been a part of this journey and look forward to helping more Indians fulfill their dreams of owning a home."
For more information about MeraSapna.in and its future contests, please visit https://merasapna.in/.
Contact:
Email: [email protected]
If you have any objection to this press release content, kindly contact pr.error.rectification[at]gmail.com to notify us. We will respond and rectify the situation in the next 24 hours.