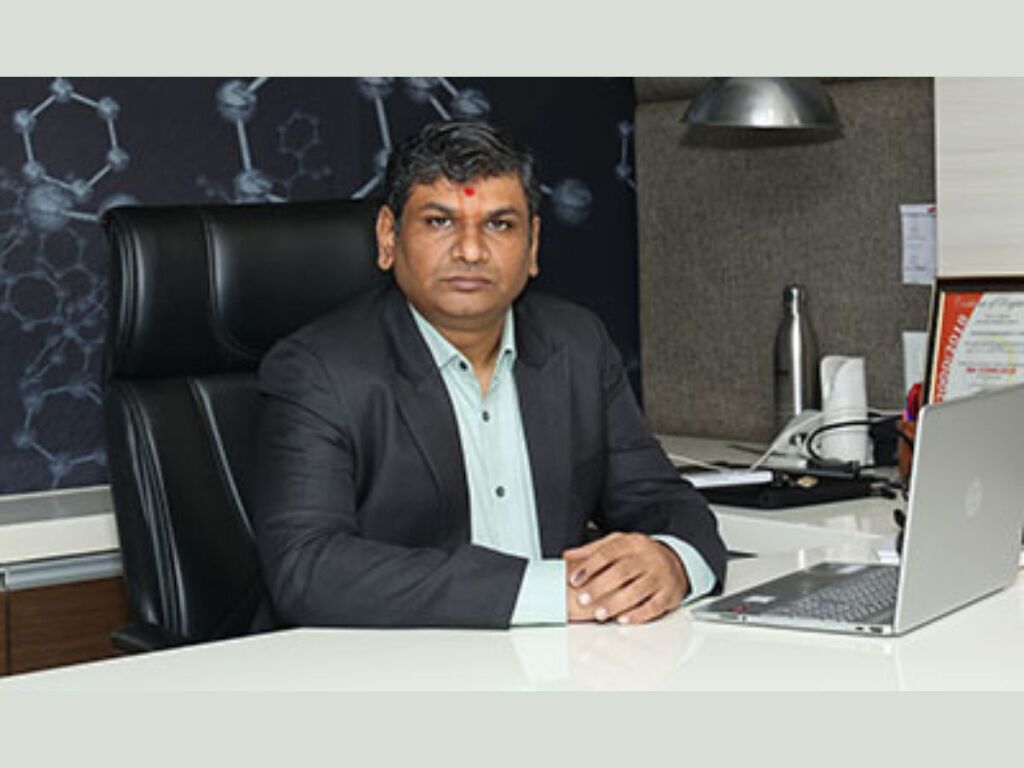 Mr. Sanjaykumar Patel, Managing Director, Infinium Pharmachem Ltd 
Gujarat (India), May 18: Infinium Pharmachem Ltd, engaged in the manufacturing of Pharma Intermediates and APIs, Iodine derivatives has reported net profit of Rs. 9.49 crore for FY23, with Y-o-Y growth of 55.4% as compared to the net profit of Rs. 6.10 crore in FY22. Revenue from Operations grew 15.24% to Rs. 114.22 crore in FY23 as against revenue of Rs. 99.12 crore reported in FY22. Profit Before Tax during FY23 grew 50% to Rs. 12.95 crore as against Profit before Tax of Rs. 8.63 crore in FY22. EPS for FY23 is Rs. 18.67 per share.
Consolidated Financial Highlights:                                            (Rs. in cr)
| | | | |
| --- | --- | --- | --- |
| Particulars | FY23 | FY22 | Y-O-Y |
| Revenue from Operations | 114.22 | 99.12 | 15.24% |
| Profit Before Tax | 12.95 | 8.63 | 50.05% |
| Net Profit | 9.49 | 6.10 | 55.41% |
Established in the year 2003, Infinium Pharmachem Ltd manufactures & supply wide range of superior quality Iodine derivatives & APIs. In 2015, Infinium obtained FDA approval for APIs manufacturing. The company works as CRAMS for Pharmaceutical, Agrochemical, Nutraceutical, Specialty Chemical etc. from R&D to commercial sale. Infinium is in top 5 companies in India providing the widest range of Iodine derivatives in the market, with more than 200+ intermediates and 7+ APIs. All its products are developed to meet challenging demands, superior quality, performance and various other commercial requirements across industries.
Mr. Sanjaykumar Patel, Managing Director, Infinium Pharmachem Ltd said, "Company has reported excellent numbers for FY 2023. We feel proud to inform all our stakeholders that the company is progressing well on its long-term growth roadmap. Company is growing strength to strength, delivering robust operational and financial performance maintaining healthy growth in revenue, margins and profitability. We expect the growth momentum to continue and expect to get further boost in coming years."
In the month of March 2023, company successfully completed its Rs. 25.25 crore SME IPO on NSE Emerge. The public issue is for 18.75 lakh shares of face value of Rs 10 per equity share for a cash price of Rs. 135 per equity share.
In the year 2022, company incorporated a subsidiary company – Infinium Green Energy Private Limited in bio-fuel segment for backward integration. Infinium Green Energy Private Limited is engaged in the business of manufacturing eco-friendly industrial fuel from agro waste. Infinium Pharmchem holds 51% equity in Infinium Green Energy. The company has started commercial production from 14th May, 2023. Apart from the environmental benefits, the Company will create employment at rural level and increase income of farmers. The company will also contribute in reducing carbon emissions in the future by providing industrial fuel from agro waste. As per recent trend, many industrial units are encouraging use of bio-fuel and hence the Company has good future prospects. The Company is also poised to make significant contribution towards objectives of Government like "Atmanirbhar Bharat", maximizing income of farmers and protection of environment.
The company has its manufacturing plant at GIDC Sojitra, Anand Gujarat, India. It was formed with a vision to be a globally integrated and trusted pharmaceutical & healthcare company. The Company got certified as ISO 9001-2015 in the year 2017. The Company undertakes Contract Research and Manufacturing Services (CRAMS) to provide customised and fully confidential solutions to its clients. The Company has developed and maintained long – term healthy relationships with all its clients, including Pharmaceutical, Biotech and Fine Chemical companies and its products reach out to over 250+ clients globally like Syngene International, Dr Reddy's Lab., Glenmark, Sun Pharma, Sai Life sciences, etc. It is exporting to 20+ countries like US, UK, China, Italy, Japan, etc.
If you have any objection to this press release content, kindly contact [email protected] to notify us. We will respond and rectify the situation in the next 24 hours.